#8 Art Tripping: Dreams and their inspirations...
Jun 09, 2017
I want to INSPIRE you to re-remember your dreams… To embrace and enjoy the growth and self-actualization that come with embracing this human activity that we all do from birth to death every night of our lives. It Is Not all about nightmares, but you all know that. Those are just the easiest to remember when we are not paying any attention. If you are fortunate enough to live into your 80ies you have dreamt for an equivalent of 20 years. That's a lot of time to just ignore in our lives. I have chosen as an artist to be inspired by the Dreaming Process. To embrace the chaos and energy of each and every dream I am lucky enough to remember. This has given my life new meaning and depth, understanding and value…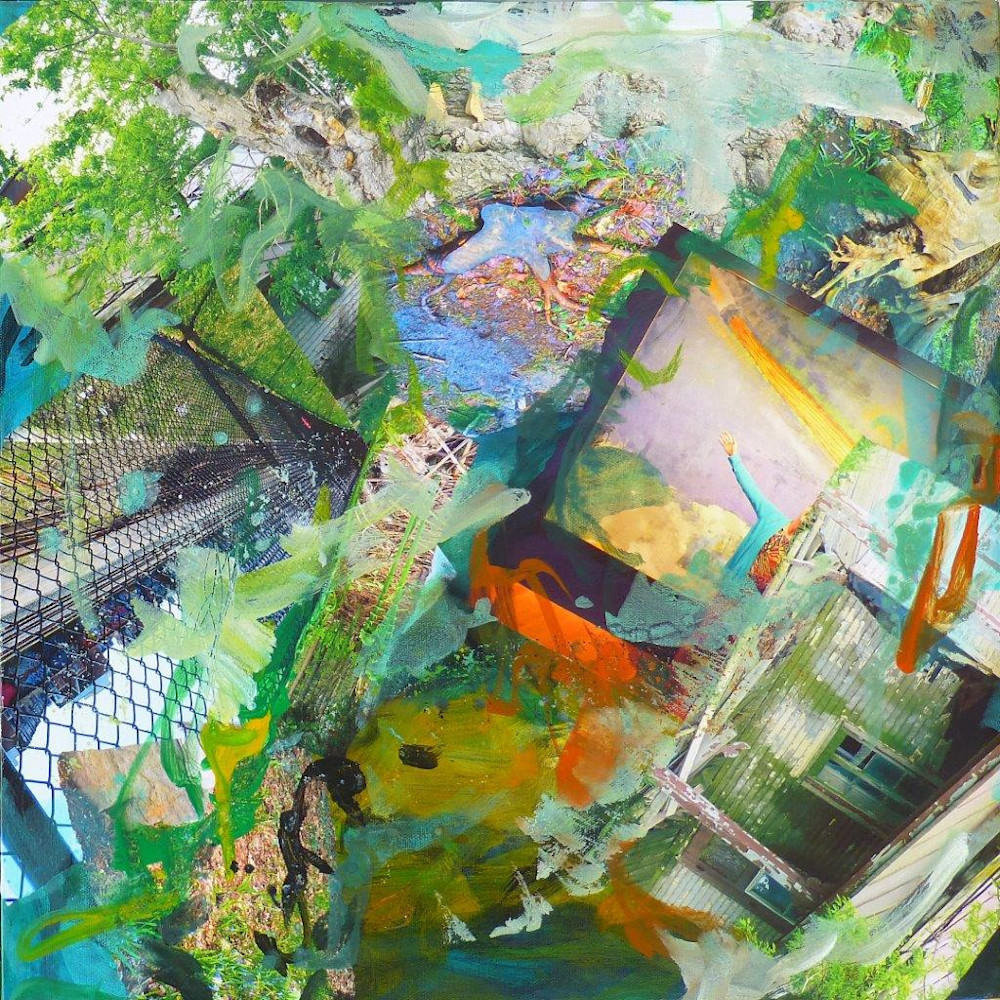 "Fenced" 20x20x1.5 CLICK ON IMAGE to go straight to website for purchase
I can remember my childhood dreams to this day. I had a repetitive dream that was just like a sit com where it happened over and over but always slightly different, I am sure this is how the idea for sitcom's came to be, repetitive dreams, that's my theory…
I my childhood repetitive dream:
I am at my grandma's house and there is a back staircase that only I know about. I go up the staircase when no one is watching and climb to a room that is balanced on the tippy top of a pointy roof A-frame house. I open the door into the room and because it is my secret place I know just how to walk ever so carefully to keep the perfect balance of this room steady and safe. I know that one false move and the room would be in peril of falling. This is my little girl's room, dolls and Barbie's everywhere with all the accessories and cloths I could possibly imagine. There is a four post canopy bed on one wall that I sit on to play with my dolls. The side wall to the room does not exist and beyond the room is a beautiful forest, between the forest and the room is a babbling brook of rainbow candy colored rocks. In all the dreams I never leave the room and always admire the view outside. I am in little girl heaven. On the last episode of this reoccurring dream, my younger sister finds the room and comes rushing into the room when she opens the door. I scream at her to be careful, But it is too late. The room is off balance and goes tumbling to the ground. I wake up. I never dreamt this dream again… I would have been about 12yrs old at the time of the last dream.
Many years later I had another reoccurring dream in high school too. Again there was a last episode to the dream and it never came back, however this time I was around 17-18 yrs. old and it struck me later that I had learnt something in the last episode of the dream.
I asked myself: "Did the dream teach me something or did the dream point out that I was growing up and had learnt something in life" I did not know at that time what I know now about dreams…. But one thing is for sure I KNEW that dreams were important in my life, something was going on.
Fast forward to the Death of my Father in 2005: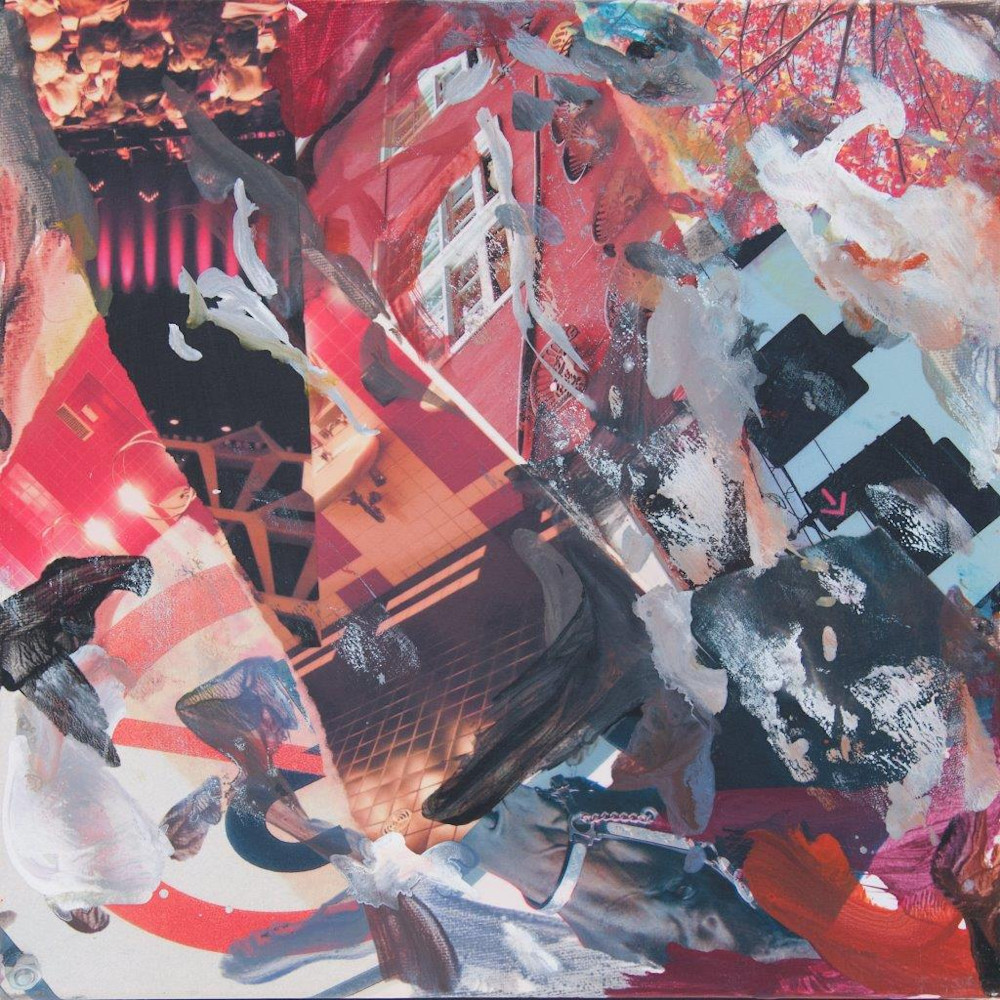 "Fire in the building Hot Hot" CLICK ON IMAGE to go straight to website for purchase
Now I am having nightmares and being that I know they are important I go on the search for tools to cope and better understand these dreams. This is when I meet Layne Dalfen. A long-time member of the International Association for the Study of Dreams, IASD. I joined the association in 2007 to help organize and curate the 2008 conference hosted in Montreal. I took over as Chair of the Arts committee from Photographer Richard Russo, check our his amazing Dream Images (in the Dream links below),
Shortly after who had taken over from Fariba Bogzaran (in the Dream links below)
Founder of the Lucid Dream Foundation in California.
I am still Chair of the Art Committee to this day and have not missed a conference since I joined.
AS you read this Blog I am at my 10th IASD conference this year in Anaheim, California. This year for the 5th year I have organized a Dream Artist Panel. An international panel of 5 artist including myself will talk about their connection to dreams and how it is related to their creative process. All during the confernce I will be posting on my Artist Kim Vergil Facebook Page so follow along.
CLICK HERE to visit my Website for Purchase of Prints and Original Artworks
DREAM LINKS:
Asdreams.org: http://www.asdreams.org/
IASD Dream Conference 2017: http://iasdconferences.org/2017/
Again this year we have organized a wonderful exhibition of Art (in conjunction with the 5 day conference) Inspired by Artists Night Dreams in one way or another. A title, a color, a vision, a story…
2017 IASD Dream Art Exhibition: http://iasdconferences.org/2017/art-show/
My pieces are here… If you are curious about the dreams… This series is about Day Residue: The left over residue of ever day life the seeps into our dreamtime and creates the imagery of our dreams…
Kim Vergils' Art pieces for Dream Art Exhibition: http://iasdconferences.org/2017/art-show/slide42/
Layne Dalfen: https://haveagreatdream.com/ Dream Interpreter
Richard Russo: http://www.richardarusso.com/ Photographer (check our his amazing Dream Images),
Fariba Bogzaran: https://www.facebook.com/fariba.bogzaran founder of the Lucid Dream Foundation in California.
CLICK HERE to go straight to my Website for Prints and Original Artworks