#7 Art Tripping - "All that Jazz"
Jun 01, 2017
As an artist I am constantly looking for opportunities to find "Call for Art Submissions…" that ring a tone inside me and stretch my creativity.
This Call for Art; CADENCE2 is the second year running in Montreal at E.K. Voland Art Gallery where artists were asked to submit Art about or inspired by Music.
My piece is called "All that Jazz"…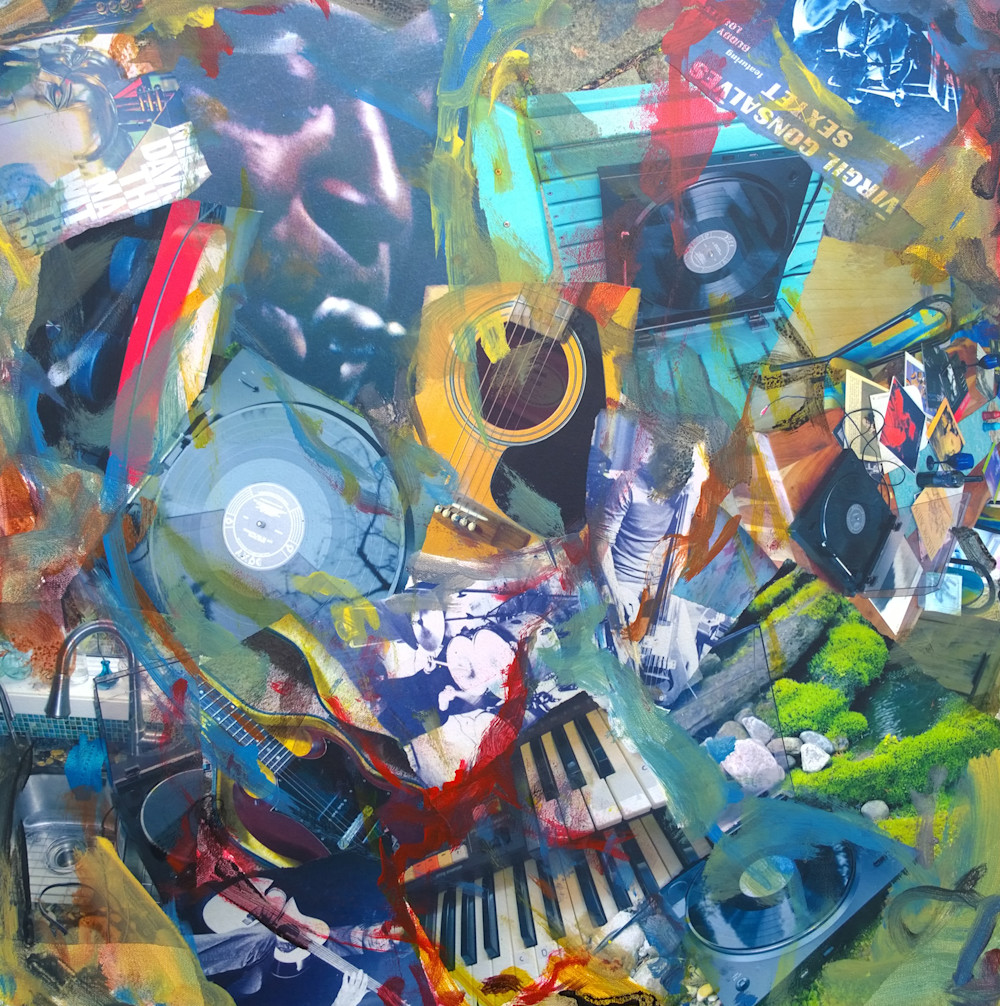 "All that Jazz" 24 x 24 x 1.5, mixed media
My Dad was a Jazz Drummer… I grew up listening to all the great Jazz musicians of the 60's and have enjoyed Jazz to this day. From Miles Davis being a huge part of my childhood music life, my Dad and my hubby went to see Miles Davis Live the last time he played in Montreal. I can't believe I missed that show! But I subsequently bought a photo from Canadian photographer Linda Rutenberg who at that time was a photographer for our Fabulous Montreal Jazz festival and had taken a photo of Miles with his trumpet at that show. Louis my wonderful partner in life and I have an extensive collection of Jazz music and it is a staple in our home and in all the formats from the old vinyl's then onto the tapes then to c.d. and now with great pleasure back to vinyl's that have been remastered and are absolutely voluptuous to listen to. Some of the albums we have bought and rebought several times over the years.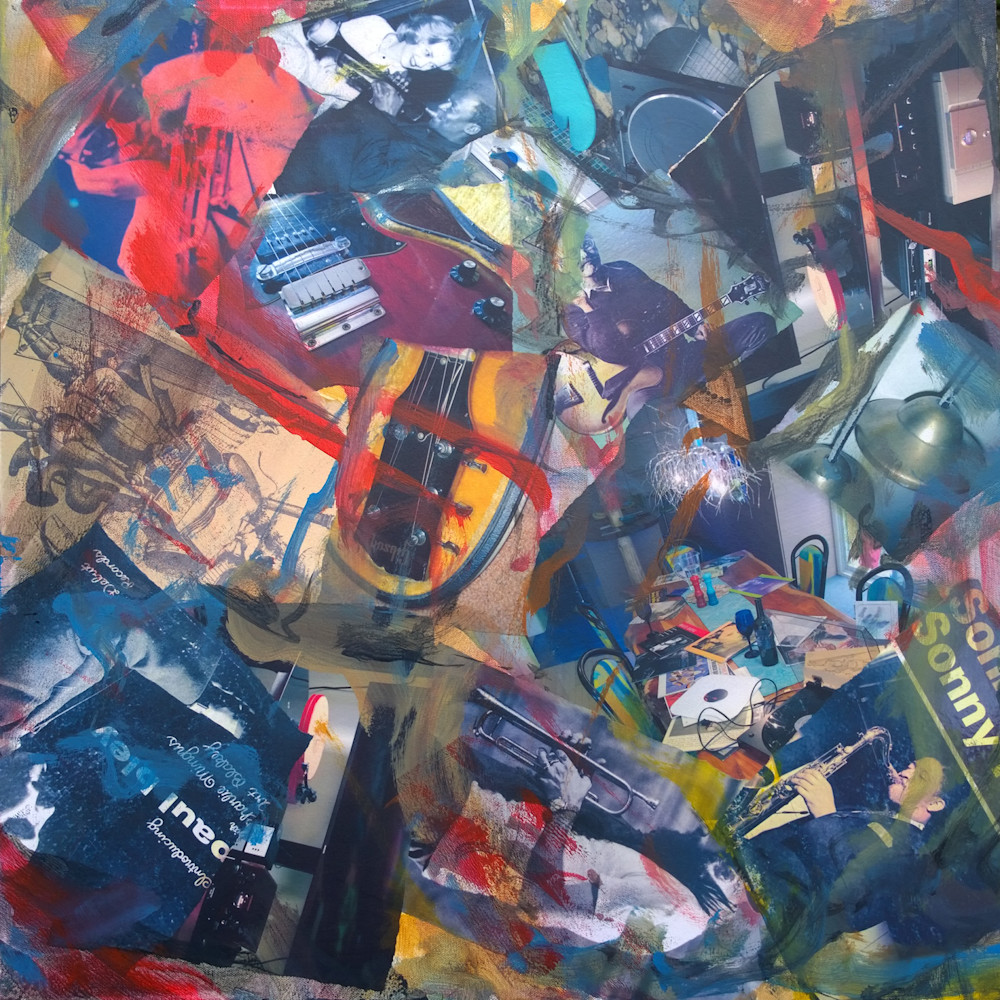 "All that Jazz Too" 24 x 24 x 1.5, mixed media
For this piece "All that Jazz" and its partner "All that Jazz Too" I decided to use our old turntable (not our new one) and photograph it in all the places we listen to music. In the kitchen sink, on the living room sofa, on the hammock outside and yes even in the bath.
Music is such a part of all our lives and influences and shaped each generation. I photographed some of our favorite old vinyl albums and the musicians on the albums as well as photographing some instruments to sprinkle into the mix. Printing these images, the photographs become the raw material that is used for the collage phase of my creative process then back into the studio for the painting (while listening to jazz) phase where the paint becomes the emotional energy that binds the whole and creates the Dream Mood of these two pieces. "All that Jazz" and "All that Jazz Too" can work as a pair or individually both are available for purchase on my website as of today.
CLICK HERE TO PURCHASE "All that Jazz"
Some Collage images for these pieces: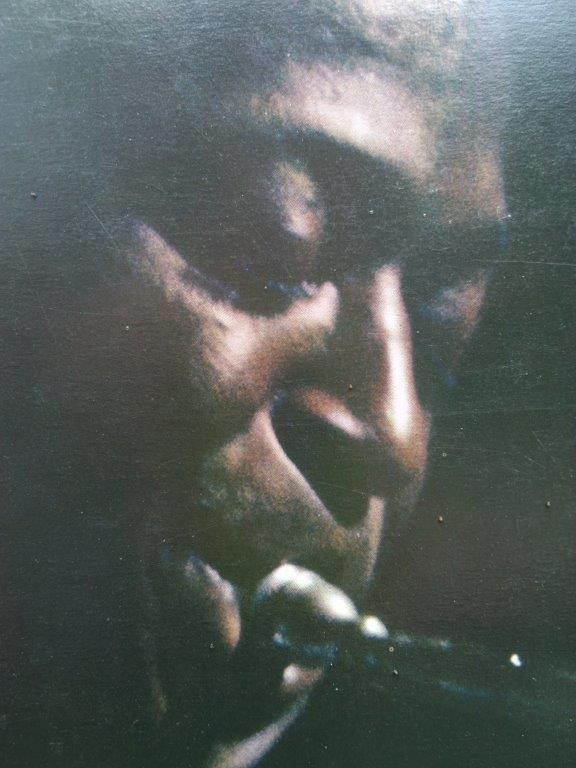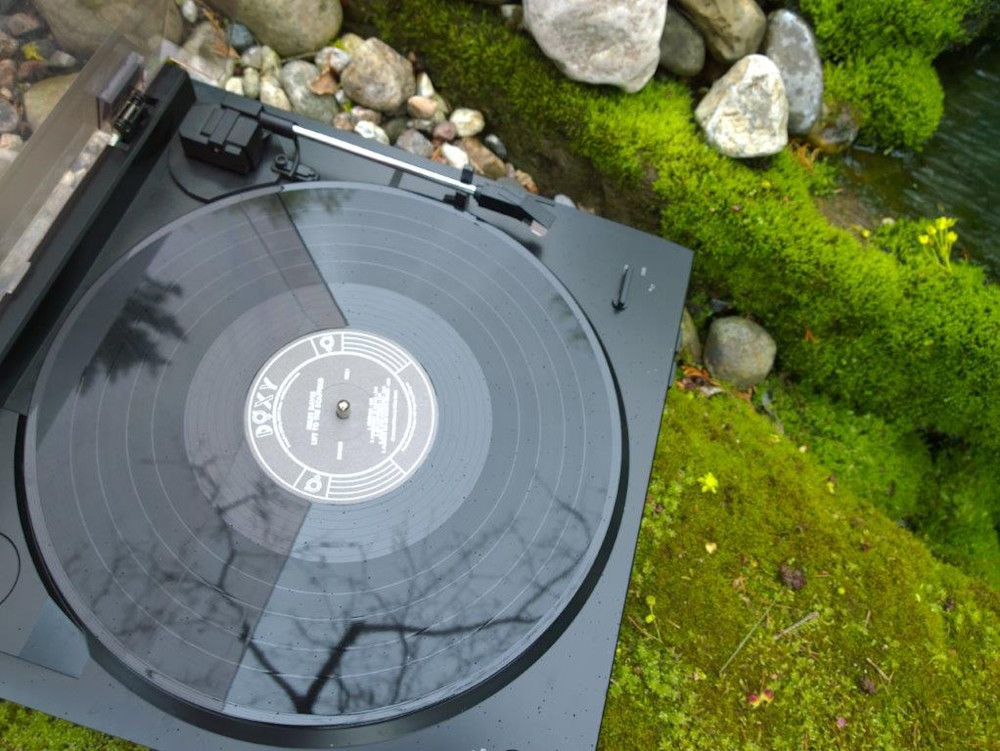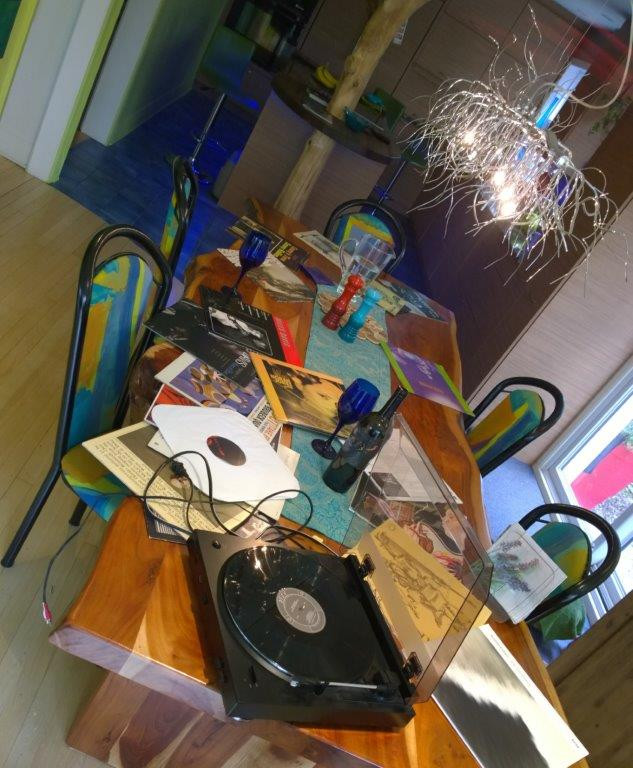 Here are some samples of my favorites…
Sonny Rollins https://www.youtube.com/watch?v=3MkUvZUTFUc this is my childhood music
Art Blakey https://www.youtube.com/watch?v=2IQNPlnc9c0 this piece is like my Dad drumming
Ralph Towner https://www.youtube.com/watch?v=2xZnx87M3ns doing a Jazz ballad "I fall in Love too Easily"
Miles Davis https://www.youtube.com/watch?v=zqNTltOGh5c "So What"
John Coltrane https://www.youtube.com/watch?v=XpZHUVjQydI "Blue Train"
We have just recently been introduced by the next generation to a new generation of Jazz musicians taking it to the next level with
Avishai Cohen https://www.youtube.com/watch?v=SZ3XlKi0MuA